We're thrilled to share with you some exciting updates we've made to our pricing structure, designed with your evolving needs in mind. As the digital landscape continues to change, so too must our offerings. With this in mind, we've been working diligently to improve and adapt our services.
Ultimate Plan: Unleashing Unlimited Potential for WordPress Performance
Firstly, we're delighted to announce that we're rebranding our Business plan. Say hello to the "Ultimate" plan. This isn't just a name change; it also brings about an exciting shift in the value we offer.
The Ultimate plan now supports an unlimited number of websites! Whether you're a bustling digital agency, a devoted webmaster managing numerous domains, or an entrepreneur with a range of online ventures, the Ultimate plan offers limitless possibilities.
Embrace the Long Run with Triennial Licensing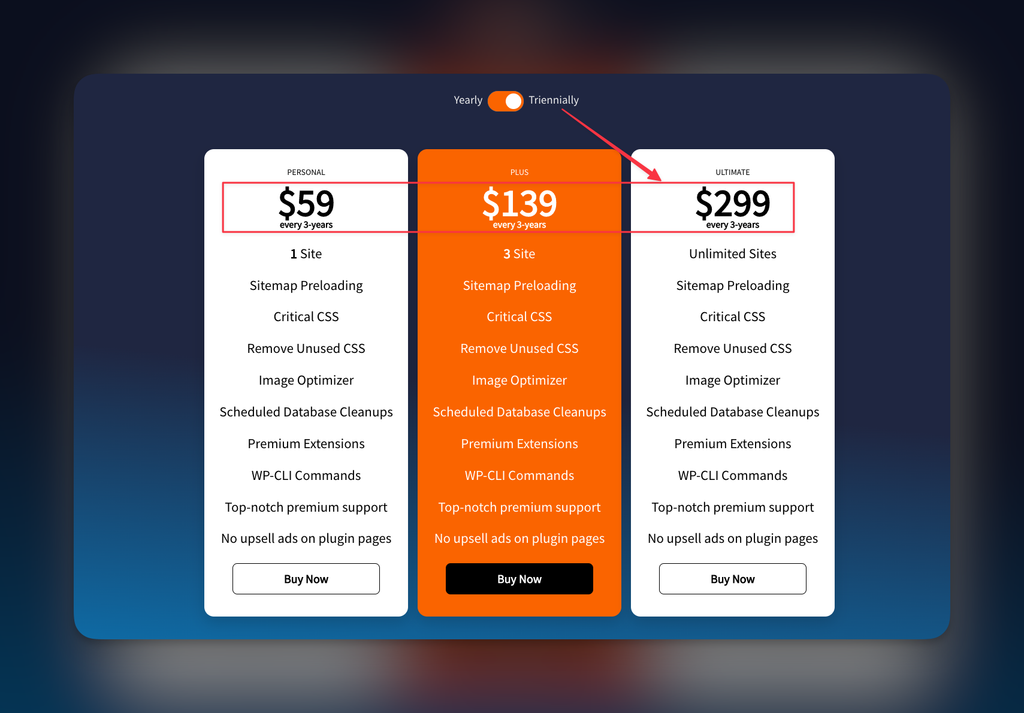 In addition to revamping our Ultimate plan, we are introducing another significant update that we believe will bring immense value to your investment with us – our triennial licensing option.
Why triennial? We've observed that the average website stays online for around 2 years and 7 months. Considering this trend, we're introducing an affordable 3-year licensing option for our users across all our plans: Personal, Plus, and Ultimate.
Think of this as an "essentially lifetime" license. In most use cases, this triennial license will cover the entire active lifespan of a website. This means you invest once, and we ensure your website stays at peak performance for the long run.
While the allure of a "lifetime license" may be tempting, it's not the best fit for our business model. We're committed to continual improvements, updates, and top-notch support to enhance your website's performance over time. This requires a sustainable revenue model, which our triennial license helps provide.
Committed to Keep Your WordPress Optimized and Running at Peak Performance
These updates are a testament to our dedication to maintaining the performance and optimization of your WordPress sites. The Ultimate plan and our triennial licensing options aim to empower you to grow and sustain your WordPress sites without constraints or recurring costs.
We believe that these changes offer more flexibility, more control, and more value for your investment. Your success is our success, and these updates are designed to keep us on this shared journey of success.
As always, we are here to help and answer any questions about these exciting changes. Your feedback is invaluable, and we eagerly await your thoughts on the Ultimate plan and our triennial licensing option.
Here's to turbocharging your WordPress with Powered Cache.