Powered Cache 2.5 is out today! This new release brings compatibility improvements, new features, and bug fixes.
Page Builder Support
One of the main improvements in Powered Cache 2.5 is increased compatibility with popular page builders.
Many website owners and developers use page builders to create dynamic and visually appealing websites. However, some caching plugins can have compatibility issues with these page builders, causing problems such as slow loading times or broken layouts. With Powered Cache 2.5, these issues have been resolved, and the plugin now works seamlessly with popular page builders such as Elementor, Divi, and Beaver Builder.
PHP 8.1+ Deprecation Fixes
In addition to the improved compatibility with page builders, Powered Cache 2.5 also addresses various deprecation notices with PHP 8.1+
Based on our tests, you can safely use Powered Cache on PHP 8.1+ hosting stack.
.htaccess Improvements
Another important improvement in Powered Cache 2.5 is the refactored .htaccess code.
The .htaccess file is a powerful configuration file that is used to control the behavior of the Apache web server. In previous versions of Powered Cache, the .htaccess code was somewhat complex and could sometimes cause conflicts with other plugins or themes. With version 2.5, the .htaccess code has been completely refactored to be more streamlined and efficient, reducing the likelihood of conflicts and making it easier to troubleshoot any issues that may arise.
Purge Current Page
A new cache purging option has been added to the admin bar. When you are on a singular page and just want to purge the current page, you can simply click on the "Purge Current Page".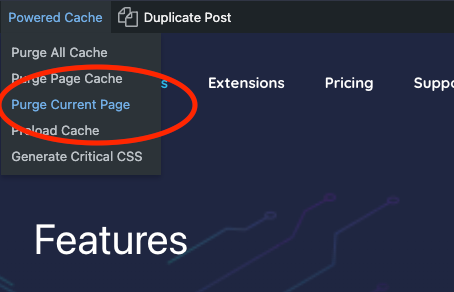 Under the Hood
The minimum required WordPress version is now WP 5.7. If you are using an older version of WordPress, please update it first. There is no reason to stick with the older version of WP 🙂
Minify package has been updated.
Minor tweaks and fixes
Overall, this latest version of Powered Cache is a significant upgrade that offers improved compatibility and a more streamlined user experience for website owners and developers.
In conclusion, if you are looking for a reliable and efficient caching plugin for your website, Powered Cache 2.5 is an excellent choice. With its improved compatibility and refactored .htaccess code, it is sure to provide your website with the speed and performance boost it needs to stay competitive in today's fast-paced digital landscape.
If you are already using Powered Cache, we recommend updating to the latest version to enjoy improved compatibility and refactored .htaccess code. If you have not used it yet, give it a try and see the difference it makes on your website's performance.